Semifinal Event of the Tech Case Study 2022 Held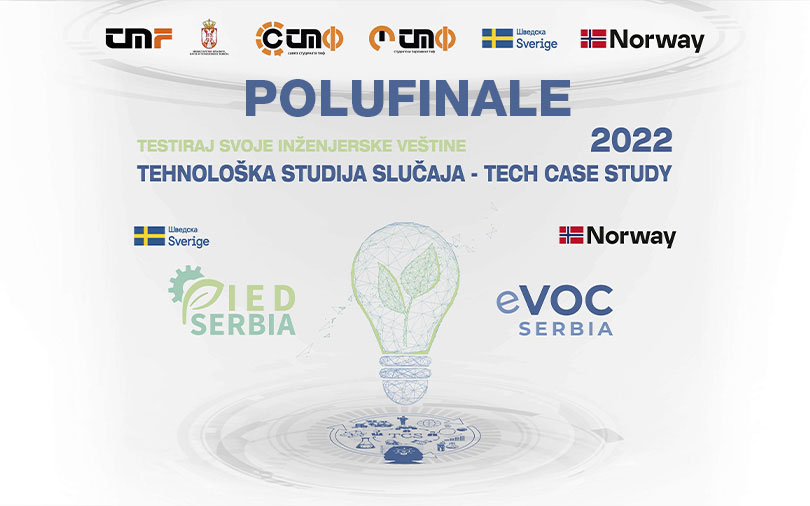 The semifinals of the "Tech case study 2022" competition were held on March 19. This is the fourth year in a row that the Faculty of Technology and Metallurgy is organising this competition.
The interest of high school students and their professors was great in the semifinals. Over 150 students from all over Serbia visited the Faculty and attended workshops and lectures in the field of circular economy and sustainable development. Due to the large number of registered students, the semifinals were held in two shifts and a detailed plan was made in order to host students in small groups.
In the large amphitheatre of the Faculty, the audience was greeted by prof. Dr. Petar Uskoković, Dean of the Faculty. Since the semifinals were held as a hybrid event, representatives of the Embassy of Sweden and the Royal Norwegian Embassy addressed the students via video stream. H.E. Annika Ben David, Swedish Ambassador to Serbia and H.E. Jørn Eugen Gjelstad, Norwegian Ambassador to Serbia spoke about the support of Nordic countries to Serbia in the field of environmental protection and the importance of applying the principles of circular economy in industry.
After the keynote speeches an animated video prepared by the project teams of IED Serbia and eVOC Serbia on the topic of green transition and circular economy was presented, which introduced students to the topic of this year's case study. The video "In what way do you support the Green Transition?" explaining the main pillars of circular economy and accompanying principles was made specially for the competition. 
Thirty high school teams were faced with a problem in the field of circular economy, namely waste textiles, which they, as a team of technologists employed in a textile company, had to solve. Their task was to propose an innovative solution to increase the circularity of the process and prevent the generation of large amounts of textile waste. Teams had until March 23, to send their preliminary solution. Ten best ranked teams will be invited to compete in the finals to be held on April 1, at the Faculty of Technology and Metallurgy, and present their solutions before the expert jury and their peers.